Latest Crowdfunding Statistics That You Should Know In 2022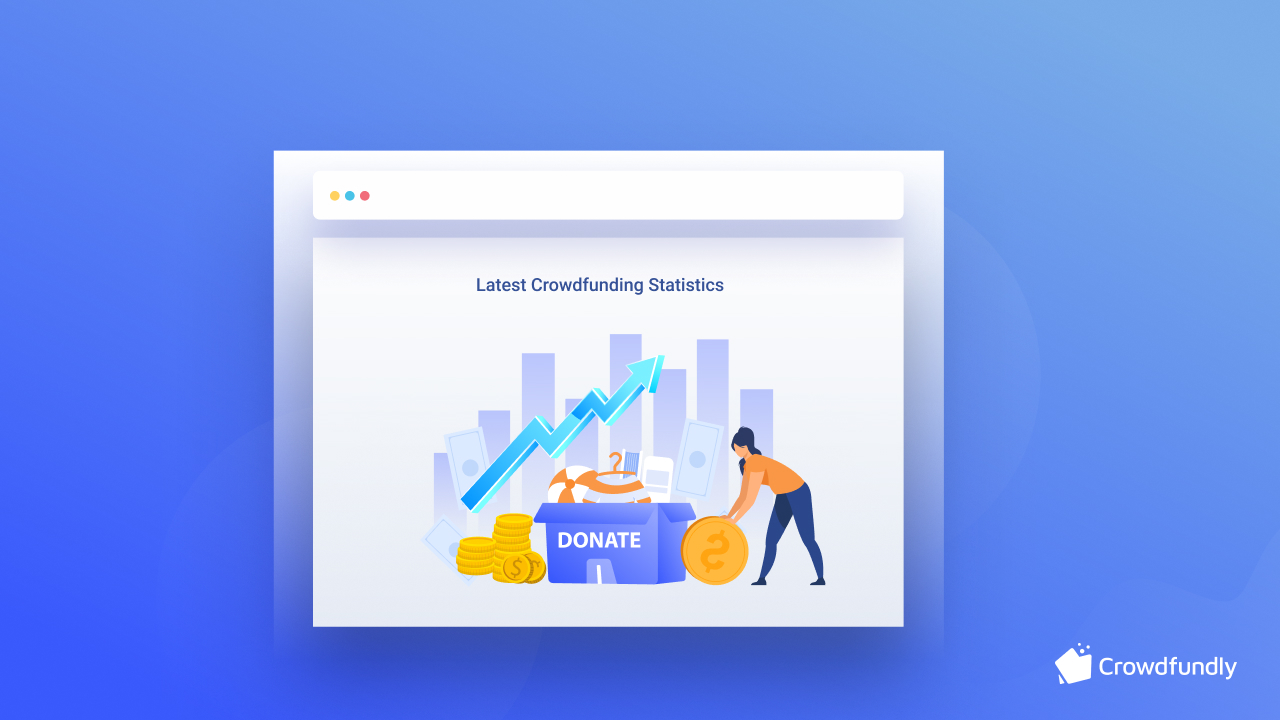 When it comes to making proper decisions for the growth of your digital fundraising platforms and campaigns, knowing the latest crowdfunding statistics is always crucial. Keeping track of the latest findings, researches and statistics will not only save you from failures but also help you take your business to the ultimate heights of success.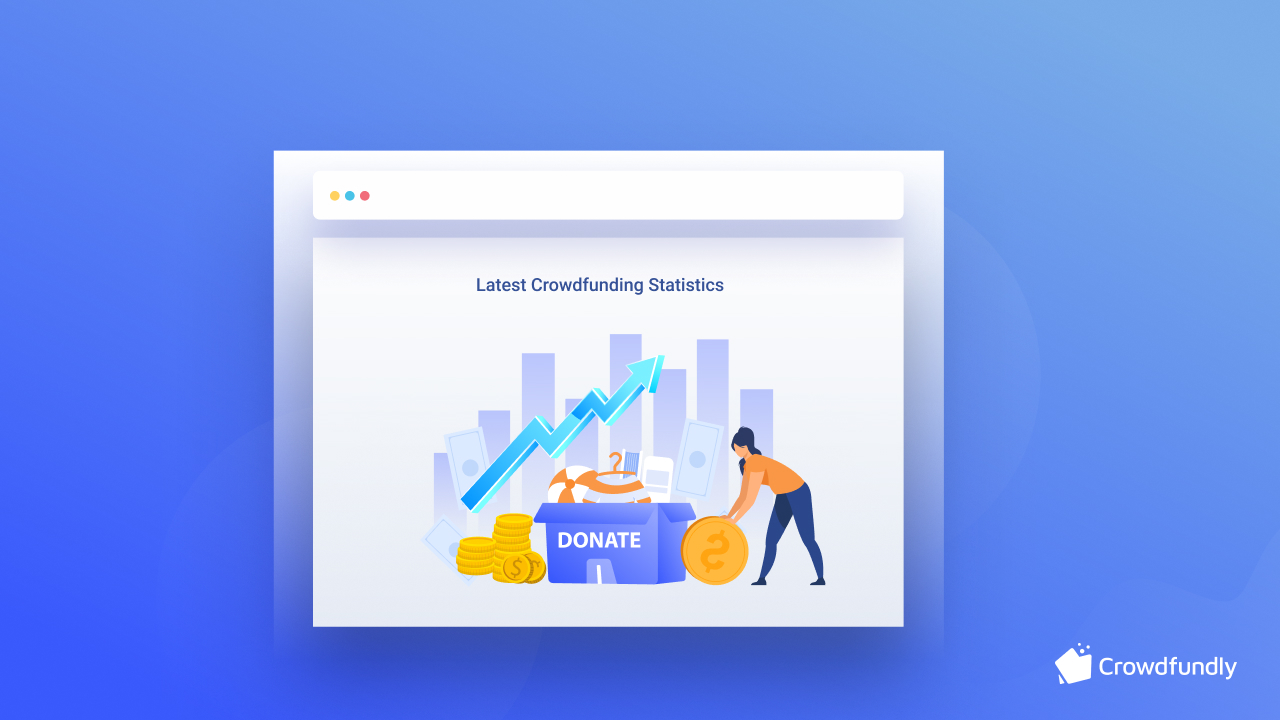 Over time, researched statistics by experts have shown massive growth in the digital crowdfunding industry – turning it into one of the most popular and successful businesses worldwide. And with all of its scopes to grow, the market is been predicted to grow even bigger with time.
In the past few years, a large number of businesses and individuals have created their own digital fundraising campaigns or platforms. Regardless of what the reason might be behind starting a fundraiser – an attempt to gather funds for thoughtful causes, continuing their business successfully during the pandemic, or more – a maximum of these campaigns have raised large funds.
If you, too, are considering getting into this ever-growing market, you have come to the right place as we bring you all the latest crowdfunding statistics to get ahead of all the competition, in 2022.
Understanding The Different Types Of Crowdfunding
Before we get into the list of the latest crowdfunding statistics that you know should before you start creating your campaign or platform, you need to have a clear understanding of the different types of fundraising campaigns. The crowdfunding industry consists of 3 different types of fundraising campaigns – the donation-based ones, the reward-based ones, and finally, the equity-based crowdfunding:
Raise Funds For Meaningful Campaigns With Donation Based Crowdfunding
As you can tell by the name of this type, Donation-based crowdfunding is a very common method and one of the most widely spread ones on the market – it is probably the one you have heard the most about. An example of this can be charity fundraising campaigns, or flood relief campaigns. Essentially, donors of this type of fundraising campaign do not expect any monetary or equity-based reward in return for their generous donations.
Create A Great Relationship With Donors Through Reward Based Crowdfunding
Reward-Based crowdfunding is a high contributor to the fundraising industry worldwide. This type of crowd-sourced financing is effectively a variation of the donation where donors are given rewards in exchange for their financial support to the campaign or platform.
See Massive Growth In The Market With Equity Based Crowdfunding
Finally, there is the Equity-Based Crowdfunding system, which is all about long-term investments. According to data from equity crowdfunding, 'donors' are often investors seeking financial returns from a share of earnings acquired by purchasing stock in a company.
Why Is It Essential To Know Crowdfunding Statistics?
Knowing the latest crowdfunding statistics helps illustrate that successful crowdfunding campaigns don't just happen on their own – it requires careful strategizing and execution to reach certain fundraising goals. And successful crowdfunding campaigns often require financial investment, as well.
And if you want to get into the business of raising funds in the right manner and set But, if you do it right, it's important that you know the in-depth statistical researches. And so without further ado, let's dive in and find out more.
20 Must-Know Crowdfunding Statistics To Drive Your Campaign Decisions
Below, we have listed down the latest top verifiable crowdfunding statistics that will help you create a very profitable fundraising campaign or platform, and decide which strategies to take up:
💰 To start off you must know that, according to research conducted by Fundly, the crowdfunding industry has added $65 billion to the worldwide economy in the year 2020 alone. And this number is steadily increasing every passing year, despite the global pandemic.
💰 The year 2021 has seen the global crowdfunding market grow at a CAGR of 11% per year and reach a value of an astonishing $12.27+ billion. Here, CAGR stands for Compound Annual Growth Rate.
💰 And the growth rate is expanding faster than you expect. The industry is predicted to rise even further with successful crowdfunding campaigns resulting in a YOY growth rate of 13.86%, taking the CAGR up to a high 15% by the year 2025.
💰 If we break that percentage down in terms of money, experts forecast that the crowdfunding sector of the economy will increase by $196.36 billion between the years 2020-2025. Not only that, it is expected to be worth over $300 billion in 2030.
💰 Out of all the different types of crowdfunding, Equity is the fastest-growing branch with an estimated CAGR of 33.9% in the past 5 years, between 2016 and 2021.
💰 Countries like North America, Canada, and United Kingdom are currently leading the worldwide crowdfunding industry, with the USA having over 40% of the market share. To be more specific, the crowdfunding volume in USA and Canada is $73.93 billion alone.
💰 Among other countries, China, Germany, and Australia are expected to grow as prominent contenders in the industry, taking up large shares of the crowdfunding market during the global pandemic. However, in the next few years, the APAC region is expected to show 62% (the maximum amount) growth.
💰 More than 40% of the fundraising campaigns focus their goals on business and entrepreneurs, while about 20% is seen to invest in social causes that serve the community.
💰 Crowdfunding for nonprofits tends to be more successful, raising over $9,237 in funds on average. 28% of donors to nonprofit crowdfunding platforms donate to the campaign again.
💰 On average, a crowdfunding campaign lasts for 9 weeks. While successful campaigns can last for an average of 113 days.
💰 According to Statista's crowdfunding data, the value of crowdfunding transactions will grow at a CAGR of 5.8% to an estimated $1,180.5 million by 2024.
💰 Statistics about crowdfunding show that 42% of funds are raised in the first and last three days of a fundraising campaign.
💰 Crowdfunding drives that use images and videos generate 105% more funds. With 75,000 launched projects, film and video are the most prolific Kickstarter category.
💰 Equity crowdfunding is the fastest-growing branch of crowdfunding, with a projected CAGR of 33.9% between 2016 and 2021.
💰 17% of all crowdfunding donations are made through online portals and fundraising websites, especially via a mobile phone device.
💰 The average funding per campaign across all crowdfunding platforms is $5,726. It is projected to increase to $6,874 by 2025.
💰 The average crowdfunding donation for meaningful campaigns is around is $99.
💰 The crowdfunding sector that has the most active campaigns as of April 2021 is Film with 926 campaigns, closely followed by Technology, Art, Music, and Publishing, as shown on the image above.
💰 Campaign admins who shared the campaign less than twice face a failure rate of 97% as researched by Fundera. And so it is a must to post of your fundraising campaigns and events on social media platforms, as well as on websites to attract more donors from different regions of the world.
💰 Campaigns with proper, detailed descriptions about the cause helps donors understand why they should invest and donate. And these are the campaigns that see the most success.
💰 Crowdfunding campaigns that thank their backers and update them regularly on the outcome of their generous donations end up getting more donations from return donors who feel appreciated.
We can go on about all the other useful, latest crowdfunding statistics to know about the industry that can help you flourish in the industry, but with that, we would our ultimate list. Subscribe to our blog and check them out to learn all the upcoming news, statistics, updates, and more to come in the digital fundraising market.
Bonus: Top 15+ Tips To Help You Build A Successful Crowdfunding Campaign
But before we leave, we would like to share some helpful tips to help you make your crowdfunding campaigns and platforms a massive success in the year 2022. Check out our blog on the top 15+ best tips you need to know before starting a donation campaign. The blog will help you in every aspect, starting from creating a professional fundraising website for your campaigns, all the way to how you can grow a community with all your donors.
We hope this blog was helpful to you in many ways; feel free to comment below and let us know of your experience in this industry, we would love to find out. Also, join our friendly Facebook Community to connect with our ever-growing community of fundraising platform owners, generous donors, and WordPress experts.